Okay, now what do I do?
Walking out to my Jeep yesterday, I heard this squawking in one of the trees in my front yard. I peek around and find this guy making a ruckus. I've seen escaped pet birds before and most of the time, they fly away as soon as I approach.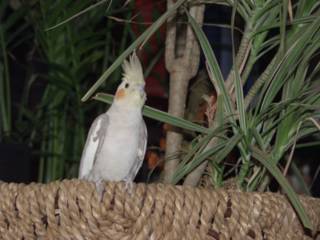 He (until somebody says different) was coaxed out of the tree and had a nice meal of birdseed. We let him loose in the house and he's been very sedate for the most part. Some chirps yesterday and today and he found a comfy spot above our living room curtains to sleep last night.
He seems not to be afraid of people, but he has no bands around his legs. I'm thinking he may be illegal, but if anybody has a clue what I should do at this point, I'm open to suggestions. I'll probably post flyers in the neighborhood, but I'm looking for any info from anyone who keeps birds. I had a parakeet many years ago and my younger brother kept pigeons. I think that qualifies me for "not quite completely clueless".
Right now, we're calling him, "Lucky" or "Catbait".