Really sorry, if this is too graphic, but welcome to my day. The dental hygenist was quite gentle with me. She may have pro-wrestled at some point in her life. I'm planning to take it easy for the rest of the afternoon.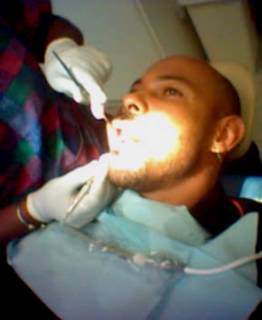 I snapped the picture with my cell phone camera and sent it to Action-Wife in the waiting room.
The beer was Scooter's idea. She's a good kid. It really wasn't doing much for my teeth, so I drank it.
Just me, a few scholarly diversions, and a very well chilled bottle of Pete's Wicked Ale. That's as good as it gets. If you're so inclined, enjoy a little bit of your day for me. I'd appreciate it.
ps- Thursday I'm heading to Santa Maria for another round of Michael Jackson coverage. Sunday, I'll be on the red carpet covering the Emmy Awards. I'm lucky to have a job I can look forward to.