The quiet before the storm.
It's no secret that I feel down and blue sometimes covering the news. The best way I've found to keep a handle on that is to do the things that make me happy. Working on my house, gardening, and going out for a night on the town with my wife are some of the things that work for me. I'm probably oversimplifying, but sometimes the answer to feeling blue can (should?)be a really simple thing.
(If you're wondering, yes, there are happy people in the world.)
Last night, Action-Wife and I braved the rain and downtown rush hour traffic to see the Los Angeles Opera production of "Carmen". Dellis had bought the tickets months ago, which is scary. It's always hit or miss when we try to plan things out in advance. My job sometimes needs to come first. Don't get me wrong, it wouldn't make me happy to have to cancel a date with Action-Wife because of a big story. We just have no complaints. My work provides for us a good life, so we can accept sudden interruptions to our plans as a fact of the life I lead. Thank you for understanding, AW.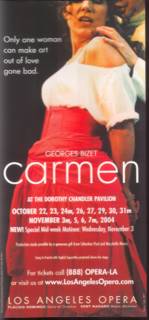 I love, love, LOVE going out at night with Dellis. Even more in the rain. There's something about the light reflecting in the puddles, the sound of the rain coming down, the brisk clean air, all of it. It just charges the evening and gives me a reason to look forward to the winter months.
Now, about "Carmen".
We enjoyed the opera (my first), but just between me and you? We could have gone to a movie, dinner or done anything together. I enjoy my wife's company, we enjoy each other's company. Probably now, more than any other period in our life, we get to have time together. My wife's beuatiful smile, spending time with her and my family, having an appreciation of art, music, and literature. This is what it takes to get me through the day. . .
. . .well, that and my new hat. I don't think it's too much to ask.
For the record, I liked the opera. I didn't love it, but I might need more exposure to build my appreciation. Maybe my expectations were too high or maybe what was happening on the stage just seemed to pale in comparison to what I feel for the woman I married.
Anyway, it was a good night to be out and a great night to beFrank.
(That storm I mentioned? I'm headed to Washington DC this weekend for election coverage. Bring it on, baby!)